Buying Second Hand
Buyer beware. The following is common sense advice but remember that you are responsible for your own decisions when buying anything second hand. We can only give you some pointers to help you to avoid some of the more common pitfalls, the rest is down to you.
Wherever you buy a second hand trailer tent or folding camper from it is essential that you thoroughly inspect it before committing to buy. If you buy it remote from an online auction site such as Ebay or from a classifieds site such as Preloved without inspecting it first then you are taking a risk. If you are willing to take the risk then you may win a bargain, on the other hand you could buy a box of rotting canvas. Take care. Yes I know they are not made of canvas, it was just a figure of speech
Lets assume that you are going to take the advice of the Camping and Caravan Club and thoroughly inspect the folding camper or trailer tent that you see advertised for sale second hand. If you don't feel confident on your own to inspect it properly then take along a friend who knows about caravans and trailer tents. The Camping and Caravanning Club have a special group for trailer tents and folding campers and may be able to put you in touch with someone who can help you do an inspection. They have a web site here: Trailer Tent and Folding Camper Group
If you are searching for a particular model then the owners clubs are listed here:
The Camping and Caravanning Club have a download-able information sheet here: Folding camper or trailer tent.
In common with caravans the biggest enemy of folding campers and trailer tents is damp and the damage done by fungus and mildew that forms because of the dampness. Some trailers use steel in their framework and this can of course rust and damage the structure. Inspect the trailer thoroughly for signs of water penetration and look for signs of fungus and mildew. Use your nose as well as your eyes. If you think it is moldy, walk away.
When you are inspecting the canvas for mould and wear pay particular attention to the areas where it comes into contact with frame poles and the edges of the trailer. Sometimes these retain damp and become moldy and rub and become frayed. Also check seams and corners as these are potential areas of weakness and may also be more prone to mould. mould damages the integrity of the material and can lead to it rotting or tearing. Check that zips and intact and work easily.
Some trailer tents and awnings have vinyl mud walls which can become split or torn, check these for signs of damage and cracking particularly where they connect to the canvas.
Inspect the hard parts of the trailer, the frame, hinges, attachments and bodywork of the trailer. If you spot damage be aware of the potential costs of correcting it.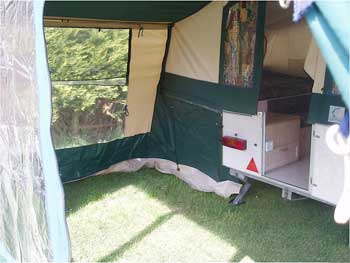 This well maintained 96 Conway Countryman sold for a bargain £1200
The tyres will probably have done a low mileage and therefore have plenty of tread but often they are old and need to be checked carefully. If they show signs of cracking, or have bulges or splits they will have to be changed even though they may have plenty of tread. If the wheels are rusty they will at least need to be cleaned up and repainted and may need replacing. It is a good idea to check the wheel bearings are in good condition, pull on the top of the wheel and see if you can feel the bearing move. If it is too lose or too tight it can overheat and break down which is of course very dangerous. Some have greasing points and also can be adjusted. If you buy the trailer make sure that you grease the bearings and that they are well adjusted before you tow it home and make this part of your regular checks and maintenance.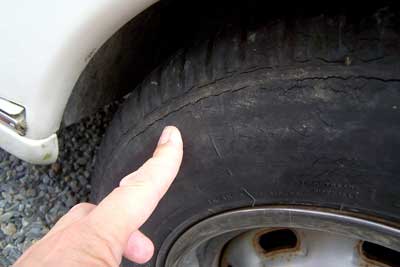 Check tyres for cracks and bulges in the side wall
If the camper or tent has clear plastic windows, and most do have, make sure that they are not cracked or discoloured.
Gas appliances need special consideration. If you are in any doubt about your ability to check a gas cooker or fridge get an expert to look at it and get them serviced. Your family is too important to take a risk with gas.
Some units have both 12 volt electrics and 240 volt. You will need to ensure that the road lights are working before you tow it away. Also it is wise to check other electrical appliances before you commit to buy. It may have internal lighting, the fridge if fitted my be 3 way gas, 12 volt and 240 volt and there may be a water pump feeding the sink. If there is a mains hook up then it is important that it be checked by a qualified electrician.
Most things on a trailer tent or folding camper can be fixed as long as you are prepared to cover the cost but the canvas is fundamental it it is torn, frayed or moldy it may be completely ruined and you would do better to find a different one to buy.
Buyer beware, it is up to you to check.