Folding Campers and Trailer Tents
Folding camper and trailer tents have become ever more popular in recent years. In evolutionary terms they come between a frame tent and a caravan with the trailer tent nearer to the tent and folding camper closer to a caravan. In both cases they offer advantages and disadvantages over both tents and caravans.
Many people love the freedom and low cost holidays provided by camping but as we get older we grow to hate sleeping on the floor on uncomfortable beds. The back ache is enough to put anyone off camping for good. Both folding campers and trailer tents give you all of the benefits of camping with the major advantage of proper caravan style beds.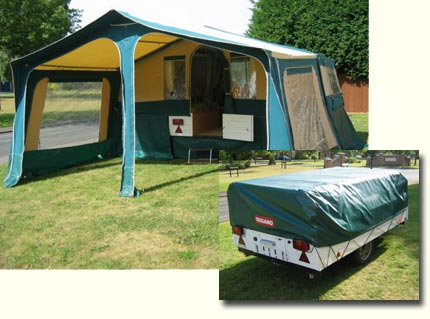 Towing made easy
If you have a smaller car that wouldn't be up to towing a caravan a trailer tent or folding camper may be the answer. Their weight and size means that you should be able to find one that suits you car perfectly. Storage is also much easier and cheaper than for a caravan.
We are independent of any trailer tent or folding camper manufacturer and so can give you an independent view of the pros and cons of different types of camper/tent. We have a professional interest in folding campers and trailer tents as we offer insurance for them but we will not be pushing that down your throats on this website. Our motivation is one of educated self interest. We want to help prospective owners to find the perfect unit for them and if a few of you come to us for insurance that will be quite nice but we intend to continue to grow and develop this site whether you do or not. Think of it as our little thank you to all of the trailer tent and folding camper owners that have been and are our clients. If you want to find our main insurance web site you'll see little grey boxes like the one below, on most pages, we hope they are not too much of a distraction for those of you who aren't interested.