Folding Campers - Pros and Cons
There's something very special about sleeping under canvas but for many a tent is a compromise too far. For some reason we accept uncomfortable beds in a tent, so uncomfortable that we often (at least I do) wake up with a stiff back cursing our Lilo. With a folding camper you have beds as comfortable as those in a caravan, no more stiff backs, and you have many of the benefits of a caravan but in a much more compact (for towing) unit.
Comfortable beds always made up ready for use.
Lower weight and less drag than a caravan. Therefore you use less fuel and can tow one with a smaller car.
They have a lower centre of gravity than a caravan therefore less likely to have an accident.
Easier to manoeuvre than a caravan at home and on site.
Small size means that you can access some sites that caravans can't get to.
Compared to a 4 berth caravan they are cheaper to take on a ferry or through the Channel Tunnel.
Easy to store at home in a garage or garden. Caravan storage sites are between £250 and £350 a year.
Less expensive to buy than a caravan.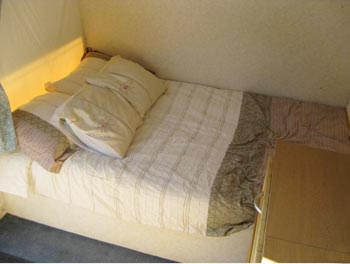 Four berth folding campers are almost always fitted with brakes as standard and usually are under 750kgs MAM (maximum authorised mass). Which means that they can be towed by relatively small cars and all drivers, even those who passed their driving test after 1st January 1997 and have a Category B are permitted to tow one as long as their car insurance covers towing a trailer and the combined weight of car and trailer does not exceed the limits set in the law. It is also generally advised by the major caravan clubs and others that for safety and stability you limit the weight towed in a braked trailer to 85% of the cars kerb weight. You also need to consider the power of your car and its ability to tow that weight with passengers and other luggage on the kind of roads you will encounter. The Camping and Caravanning Club has a page which summarises the law on towing weights nicely here.
Six berth folding campers are larger and may be between 750kg and 1100kg MAM.
Folding campers are designed to have a well balanced trailer with a nose weight suited to most cars but be care full that you don't increase the nose weight too much by adding too much weight in front locker or packing the trailer incorrectly.
Note: Since 1 January 1997 all drivers who passed their driving test after this date and hold category C or D entitlement have been limited to trailers up to 750kgs MAM.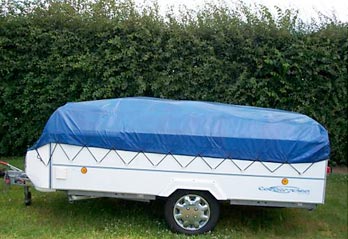 A folding camper can be used in 2 modes, the kitchen is inside the camper and in larger models this includes a fridge. In the basic or touring mode you just set up the folding camper without the awning, this takes 10 to 15 minutes and on some models there is nothing to peg out, some Youtube videos demonstrate that it can be done in even less tame. In this mode you can easily stay on a caravan or camping site for a night or two and move on. Sometimes pitches are cheaper without an awning.
If you are staying for longer on a site it is worth taking the time to put up your awning and setting up your long stay mode.
The rate of theft of folding campers is much lower than that for touring caravans, partly because they are easier to store in a garage or tucked away in the back garden and partly for other reasons to do with value, resale and the fact that no one would choose to live in one long term.
A good folding camper can provide you with cheap holidays for years to come in the UK or abroad. Children love them and they are a really good investment for the young family.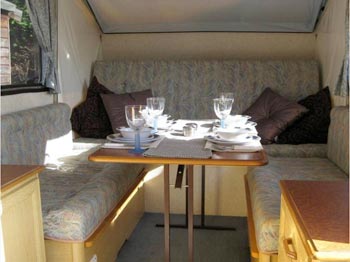 Disadvantages
The main disadvantage is; "what do you do if you have to leave and your folding camper is wet".
If it is raining when you leave your site you have to take special precautions to make sure things inside the camper such as beds and bedding don't get wet when you fold it up. When you get home you need to take steps to make sure that you thoroughly dry out your camper before you pack it up for long term storage. Even on the specially chosen man made materials used in the manufacture of folding campers mould and mildew can form very quickly and your lovely camper can become ruined in a few days with very little hope of getting it back into a good state again. No insurer will cover you for this type of damage, it is up to you to make sure that you take good care of your folding camper.
Have a plan for how you are going to deal with your wet camper and do it as soon as you get home. Time is off the essence so don't put it off, open it up and get some air to it so that it can dry straight away. If you have a big enough garden open it out and wait for it to dry. If you can part open it in the garage do that and try to get air flowing over it. Don't leave damp areas touching. It is common sense really but if you learn to deal with this issue your folding camper ownership will be more likely to be a happy experience.